What is the School Led Tutoring Grant?
School-Led Tutoring is one of the three NTP tuition routes for 2021/2022. Under this route, all eligible state-funded Primary, Middle and Secondary schools and academy trusts in England will receive a direct, ring-fenced grant from the Department of Education to spend on tutoring provision.
School-Led Tutoring is one avenue of support that Equal Education Partners offers schools and colleges within our suite of tutoring options. To see more, visit our tutoring page

How much funding will schools receive?
Each mainstream school will receive funding of £203.00 for 60% of their pupils eligible under the pupil premium fund in Years 1- 11.  This represents 75% of the tutoring costs. For example, a school with 150 pupils in receipt of Pupil Premium will receive £18,270.00 (150 X 60% X £203.00).
Schools will need to fund the remaining 25% through other budgets, for example your pupil premium or recovery premium.  Please note, schools cannot use their School-Led Grant to cover the un-subsidised cost of the Tutoring Partner Hub route.
Non-maintained schools, including special schools and units, will receive funding of £529.00 per pupil for 60% of their pupils eligible under the pupil premium fund.
When will the grant be paid?
Maintained schools will receive their payments on the last working day of September 2021, December 2021 and April 2022. Academy Trusts will receive their payments in October 2021, January 2022 and May 2022. Schools do not need to apply or opt-in to receive this grant.
Which pupils can benefit from School-Led tutoring?
The DFE guidance states:
"The school-led tutoring grant is to support disadvantaged pupils in catch-up learning and schools will select the pupils in need of support. This will focus on providing tuition to pupils eligible for pupil premium but also includes pupils with other types of disadvantage or additional needs. This includes special educational needs and disability (SEND) children who have a social worker, previously looked-after children, young carers and other vulnerable pupils.
However, if a school or academy trust feels that a pupil who does not fall into these categories would benefit from catch-up tutoring, the funding can be used to provide this."
Therefore, a school has autonomy to decide which pupils they wish to use their grant to support.
Can schools use both the NTP and the School Led Tutoring Grant? 
Yes!
Schools are encouraged to use a combination of three routes. NTP Funding has set criteria, whereas the school-led tutoring grant offers flexibility in the delivery, e.g. number of hours of tuition.
Schools could offer a student one block of 15 hours in one subject through the NTP and provide additional tutoring using the School Led Grant. Schools can use an approved tuition provider such as Equal Education Partners to deliver tuition under the school-led grant route.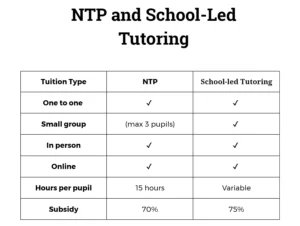 How much does School-Led Tutoring cost with Equal Education Partners?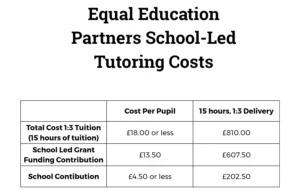 *All costs are subject to VAT.
Are there any reporting requirements?
Yes. Schools are required to provide the DfE with data both termly (as part of the school census) and at the end of the academic year using an online form.
Further information about the School-Led Tutoring Grant, including reporting requirements, can be found here.
Get in touch with the tutoring team