The Science and Engineering Program for Teachers at the Massachusetts Institute of Technology (MIT) is back for 2023! Meet the four Welsh delegates that will represent Wales at this year's programme below.
Learn more about the SEPT program and Equal's role within it here

Huw Smith
Hi. My name is Huw Smith and I work for GwE, the North Wales Schools Consortium as their STEM Improvement Adviser. I'm very grateful for this exciting opportunity to visit the Massachusetts Institute of Technology (MIT) – the world's leading STEM University – and I'm really looking forward to taking part in their innovative Science & Engineering Program for Teachers (SEPT).
Four of us from Wales will be working with over 50 other teachers from different countries to develop teaching initiatives that we can bring back and share with our schools. The SEPT program includes lectures from leading scientists, professional learning opportunities using the latest education technology that has been developed at MIT, and hands-on workshops to develop STEM skills for the classroom.
I can't wait!
Ellie Denscombe
It's 2001 and I have just started my new career as a Science teacher specialising in Biology.  Fast forward to 2023 and I am now Director of Science teaching mainly Physics, including at A level.  As a non-specialist teaching A level Professional Learning has been hugely important getting me to where I am now. 
As an ex Head of 6th Form who continually encouraged my pupils to 'just apply – you have nothing to lose' I knew that I would be a massive hypocrite if I didn't follow my own advice! 
I would be lying if I said I am not nervous about going to MIT.  The opportunities to professionally push myself out of my comfort zone post pandemic have been few and far between.  Pushing my nerves aside I am beyond excited about this chance to learn so much more from other like-minded professionals and bring back a wealth of new knowledge and resources that my colleagues and I can use to further drive standards across STEM.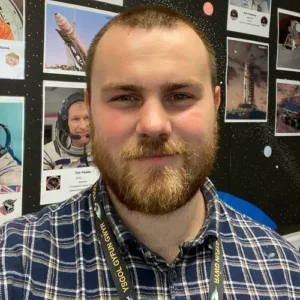 Alun Rennolf
I'm Alun, and I'm the Head of Physics at Ysgol Gyfun Gŵyr in Swansea. I've been teaching at the school since finishing training in 2018, and I love working as part of an energetic, innovative Science Department. I'm looking forward to seeing what's happening at the cutting edge of the STEM world at MIT, and bringing what I can back to Swansea!
Nathan Melly
As a teacher I'm always looking to learn new things, so when this opportunity came up I had to apply! I am coming to the end of my second year as a Sceince Teacher at Ysgol Gyfun Cwm Rhymni and I have had a fantastic experience so far. 
I was born in Cardiff and decided to pursue Science through achieving my degree in Zoology at Swansea University and I graduated in 2018. During this time I had not only developed my interests in the subject through study, but through achieving qualifications in Scuba diving and an interdisciplinary field course to the Himalayas.
I decided Teaching would be my next venture after working in marketing ,leisure and environmental projects both at home and abroad. I wanted to build for the long term while making a difference to pupils in Wales. 
My aim was always to inspire our next generation of scientists and engineers by providing real life experiences that are relevant to their lives, while enhancing their key skills and allowing them to take an interest in the world around them. I am very excited to see the way others do this from around the world, and can't wait to see what else this programme has to offer!
Equal's Perspective
As a company, we love being a part of programmes such as SEPT that can truly benefit the teaching of STEM subjects within Wales with the development of the New Curriculum for Wales.
Rebecca Martin, Senior Associate (International Partnerships) at Equal Education Partners summed up the team's feelings toward the programme:
"I'm truly excited about the opportunities that lie ahead and look forward to witnessing the profound impact these four exceptional delegates will have on STEM education in Wales. As a business, Equal remains dedicated to fostering innovation and excellence in education, and this initiative serves as a testament to our commitment to empowering educators and promoting educational advancement across the nation."
Learn more about the SEPT program and Equal's role within it here.